Replacement Theology: It's Not True – Part 3
Article 24
By Steven J. Hogan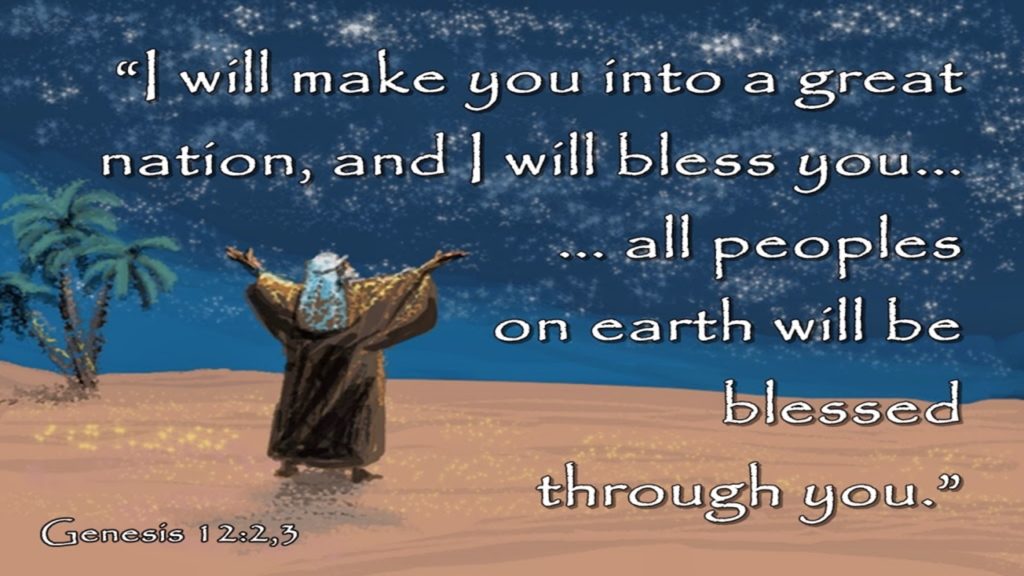 As Christians our desire should be to clearly understand the prophecy passages in the Bible that speak of the future God has for us. And one thing necessary for this understanding is to know the promises God gave to the Jews, particularly about their land, their King and their salvation. Unfortunately, many in the church are confused about this, and in fact, there are those who actually negate and nullify these promises to the Jews. For different reasons, they say there's no future for national, ethnic Israel.
Those who believe these promises have been nullified, and have then been reformulated for the church, are in error. This false view, my friend, one that is often called Replacement Theology, is an attack against the credibility of Scripture and the character of God. It is also an attack against Bible prophecy, the future of Israel, and the common sense literal approach to Scripture. 2 Thessalonians 3:3, in a passage about prophecy, says, "Let no one deceive you in any way." My desire is to make sure you are not deceived by this error, to help you see that those who believe this error are wrong. Their faulty arguments can be refuted and corrected by the overwhelming number of Old and New Testaments verses that clearly and powerfully proclaim God's future plans for the Jews. The primary purpose of this particular article is to look at some New Testament verses to prove to you the truth of God's promises to the Jews, that they have not been changed, but will indeed come to pass.
1.  LUKE 1-2  ~  FIVE STAR WITNESSES TESTIFY TO THE TRUTH OF GOD'S PROMISES TO THE JEWS



Luke 1:30-33 – "Do not be afraid Mary, for you have found favor with God. And behold you shall conceive in your womb and will bear a Son, and you shall name Him Jesus. He will be great and will be called the Son of the Most High; and the Lord will give Him the throne of His father David; and He will reign over the house of Jacob forever, and His kingdom will have no end." Mary was a young and godly lady. As an Israelite, she had been schooled in the synagogue and no doubt understood the Davidic covenant, that one of David's descendants would someday reign as King over the Jews, and over the entire world. And here is Mary the servant, and she is shocked to hear from this angel that she would be the mother of this Messiah, this Son of the Most High. But she believed him, for she believed the promise God Himself had already given in His word.
Luke 1:54-55 – "He has given help to His servant Israel, in remembrance of His mercy, as He spoke to our fathers, to Abraham and His descendants forever." In these verses Mary references the Abrahamic Covenant, and she knew this too to be God's promise to the Jews, that through Abraham, all the families of the earth would be blessed. She believed that this promise, like the Davidic covenant, was an eternal promise that would never be changed.
Luke 1:67-79 – "… (the Lord) has raised up a horn of salvation for us in the house of David His servant, as He spoke by the mouth of His holy prophets from of old, salvation from our enemies, and from the hand of all who hate us; to show mercy to our fathers, and to remember His holy covenant, the oath which He swore to Abraham our Father." Zechariah the priest, the father of John the Baptist, understood these promises to Abraham and David. Over the years, he had continually heard and believed the prophets' messages about salvation, redemption and forgiveness. Without question, Zechariah was looking forward to the coming of the Messiah.
But let's not forget the shepherds. What did the angel tell them? "I bring you good news of great joy which will be for all the people; for today in the city of David there has been born for you a Savior, who is Christ the Lord… 'Glory to God in the highest, and on earth peace among men of goodwill.'" Luke 2:10-14. Yes, the shepherds also knew and believed these promises God had given to their ancestors, about this King who would bring peace to the world. You see, most Jews had heard them time and time again, from their parents, from the priests, and from the words of the prophets.
Then Luke 2:25-32 tells us about a devout man named Simeon, and he was "looking for the consolation of Israel." And in Luke 2:36-38, we read that the prophetess Anna was "looking for the redemption of Israel." They too knew the promises about the land, their King, the salvation of the Jews, and the glorious future of Israel, and they really wanted to see this King, this Messiah. Now they didn't know there'd be a 1st and 2nd coming of the Messiah, that a church age would take place between the two, and that only at His 2nd coming would all these promises be fulfilled. But they believed what they knew, and then in God's kindness, He let them see His Son with their own eyes.
What can we sum up from these accounts, from these five star witnesses for the Messiah?
1. The people God picked to be His witnesses were all Jews, and they all believed these promises, and were convinced that they'd be coming true.
2. These Jewish witnesses were testifying to the truthfulness of these promises, that a Messiah was coming who would be King, who would bring salvation and great blessing to the Jewish people, and to the entire world. They were agreeing with the promises that had already been given, were affirming them, and then publicly declaring them.
3. God could have chosen just one person to testify to the truth of the Messiah's coming and these promises to the Jews. But He picked four people, all godly witnesses, but even more than that, for these shepherds were also testifying about the Messiah, the Chief Shepherd. God, through these witnesses, and now to us through His word, is emphatically making the case that these promises are true, are legitimate, and will be fulfilled.
4. In Luke 1-2, in the context of the most Biblically detailed story about the birth of His Son, God wants us to know that it's not just about the baby Jesus. Embedded in these two chapters are a number of reminders of the key promises directly related to Jesus, and divinely given to the Jews. Right at the beginning of Luke's gospel, God wants to make sure we remember the big picture, the overall purposes concerning His Son, yes, that He will be a Savior, but also a King, and that He will reign over the Jews and the entire world.
5. Nothing is said in these verses or later verses that counters and contradicts these witnesses' understanding of these promises. Nothing is said to them that they were wrong in what they believed, or that God had changed His mind and nullified these promises, or that He had something new in mind, and that this entity called the church, would be the new recipients of the Jewish promises. Nothing at all is ever said to deny, to negate these promises. In these verses, God is not only validating His promises to the Jews, but He is not invalidating them.
6. What a pity it would be, as some must believe, that these five star witnesses had been deceived, that even Jesus' own mother had been tricked, and that the promises were going to be changed. Why would God want His godly people to repeat these promises if He knew He was going to change His mind? How deceptive, how cruel that would be. But these witnesses weren't deceived, they were telling the truth, and nothing but the truth. To go even further, what a pity it would be, as some must believe, that millions and millions of Old Testament Jews were misled, were mistaken, were deceived with regard to the promises about the Messiah, and the promises about the future of their own people. They thought they were believing the truth, but it really was a lie. But no, they were not deceived, they weren't lied to, they were told the truth. "The plans of the Lord stand firm forever." Psalm 33:11
7. These godly witnesses were given to us by God to affirm and validate the truth about Jesus, the Messiah, and the truth about the promises to the Jews. Nothing had changed, and nothing had been changed – all that God had said in the past, all that had been written in the Law, the Psalms and the Prophets, was 100% true, and would always, would forever be 100% true. 

2.   ROMANS 11  ~ GOD'S PROMISE TO THE JEWS ABOUT THEIR SALVATION WILL COME TRUE
Romans 11 is the best chapter in the New Testament that speaks about the salvation of a remnant of Jews in the end times. In the Old Testament we read that God preserved His people, the nation of Israel, even in spite of their continual sin and rejection of Himself. And God didn't in those days nullify His promises to them, but only kept on reaffirming them. Then the New Testament gospels tell us how the Jews turned against the Messiah, the Christ. But would their rejection and crucifixion of Christ cause God to change His mind with regard to His promises, and specifically the future salvation of a remnant of Jews? No, not at all.
My desire is to help you see how Romans 11 confirms God's plans for the salvation of the Jews in the end times. The key question is given to us in verse one: "I say then, God has not rejected His people, has He?" And right away, Paul answers it. "May it never be!" Now when Paul says, "His people," we know he is talking about the Jews. We also know God is saving some Jews during this church age. But what Paul goes on goes on to say is that God has not reneged on his promise to save a remnant of Jews at the end of this age.
First, Paul says that their salvation relates to God's foreknowledge (verse 2). That God would save a remnant of Jews at the end of this age is because God had foreknown them. Since eternity past, God has desired and planned to save this great remnant of Jews. That's what He foreknew, that's what His Word says, and nothing can or ever will change His eternal plans for them.
Second, it is by God's grace. Of course, the Jews as a people, have sinned and rejected Christ. But it is not by their good works that they received these promises, and it is not by their sin that they will forfeit these promises. The Abrahamic, Davidic, and New Covenants, the three primary promises, will not be obtained by works, but rather are unconditional, guaranteed by God, granted by grace, and given freely to the Jews. "There is a remnant chosen by grace" (verse 5).
Third, we understand that the Jews, as a whole, are not very receptive to the gospel during this church age. In reference to the Jews, it says, "the rest were hardened" (verse 7). But why? It's important to realize that in a general way, God has sovereignly hardened the hearts of the Jews during this church age. "God gave them a spirit of stupor" (verse 8). But let me assure you, this does not take away their responsibility to repent of their sins and believe in Christ.
Fourth, the Jews have stumbled during this church age (verse 11), but they haven't fallen. That is, they are not permanently out of the picture, for God has not canceled His plans for the Jews, but only suspended them. As a people, the Jews have been set aside now for about 2,000 years, but this long but temporary interruption of God's plans for them will soon come to an end, for now we are living in the end times, and therefore in a very little while, Christ will return to fulfill His promises to them.
Fifth, "By their (the Jews') transgression salvation has come to the Gentiles, to make them jealous" (verse 11). The Gentiles are clearly more open to the gospel during this church age than the Jews. But "If their (Jews') rejection is the reconciliation of the world, what will their acceptance be but life from the dead" (verse 15). God is telling us that He's not finished with the Jews, for there'll come a day when they will accept the Messiah, and spiritually be made alive.
Sixth, in speaking of the salvation of the Gentiles, God says they are like wild olives branches grafted into a good olive tree. But then in speaking of the Jews, God says, "God is able to graft them in again… how much more will these who are natural branches (the Jews) be grafted into their own tree (verse 23)." By saying this, God is speaking of a great number of Jews who will be grafted into this good olive tree, who will be saved at the end of Daniel's 70th week.
Seventh, the most telling verses in Romans 11 with regards to the future salvation of a remnant of Jews are these: "I do not want you, brethren, (Gentiles) to be uninformed of this mystery, so that you will not be wise in your own estimation, that a partial hardening has happened to Israel until the fullness of the Gentiles has come in, and so all Israel will be saved; just as it is written, 'The Deliverer will come from Zion, He will remove ungodliness from Jacob.' This is My covenant with them, when I take away their sins (verses 25-26)." You can't miss this. You can't read this any other way but to say that it is telling us about the salvation of a number of Jews at the end of Daniel's 70th week. Let me explain a few other things about this verse:
a. The hardening of the Jews is not a complete and permanent hardening, just a temporary and partial hardening during this church age, "until the fullness of the Gentiles has come in." God is focused on the salvation of the Gentiles during this age, but once "the fullness of the Gentiles has come in", once all the Gentiles to be saved, are saved, then all Israel will be saved.
b. Luke 21:24 tells us that the Jews were scattered (about 70AD), but now they have gathered back, an important precondition that had to be met before these Jews could be saved.
c. Luke 21:24 also tells us that the trampling of the Jews will continue "until the times of the Gentiles are fulfilled". This trampling, this Jewish persecution, this Anti-Semitism continues even today. But when will it come to an end? Only when "the times of the Gentiles are fulfilled," only when Christ becomes King over the world at the end of Daniel's 70th week, will a great remnant of Jews will be saved.
"All Israel will be saved", means that all the Jews alive on this earth at that time will be saved, will be forgiven of their sins. What God had promised to the prophets will then most assuredly take place. God is faithful to His word, and His promise to the Jews will finally be fulfilled. This is one of the clearest affirmations of God's commitment to His chosen people, to an elect remnant of Jews. There is no question that Romans 11 is one of the most important passages in the New Testament regarding His promise to save a great number of Jews at the end of Daniel's 70th week. "To Him be the glory," and that my friend, concludes this chapter. These final verses, in this context, are speaking of the working and ways of God with regard to the salvation of the Jews. And all the glory goes to God. "O the depth of the riches both of the wisdom and knowledge of God. How unsearchable are His judgments, and unfathomable His ways… For from Him and through Him and to Him are all things. To Him be the glory forever. Amen." Romans 11:33-36
3.  HEBREWS 11  ~ GOD'S PROMISE TO THE JEWS ABOUT THEIR LAND WILL COME TRUE



Hebrews 11 is about faith, but it's also about hope. Verse 1 says, "Now faith is the assurance of things hoped for." When we have faith for the future, then that is hope. If you believe in a promise from God about the future, then you have hope. You see, Hebrews 11 is just as much about men and women who had faith, as it is about men and women who had hope. What was their hope? It related directly to the promises God made to the Jews in the Old Testament. With reference to Abraham it says, "By faith he lived as an alien in the land of promise… for he was looking for the city which has foundations, whose architect and builder is God" (Hebrews 11:9-10). In Genesis 12:1-3 and Genesis 13:14-16, we read that God had promised Abraham that he would be blessed with land and many descendants. And Abraham believed God, and it was his faith in God's promise that gave him hope.
But we must note Hebrews 11:13-16 – "All these died in faith without receiving the promises, but having seen them and having welcomed them from a distance, and having confessed that they were exiles on the earth… they desire a better country, that is a heavenly one. Therefore God is not ashamed to be called their God; for He has prepared a city for them." Do you see what this is saying? All these Old Testament believers mentioned in Hebrews 11 knew the promises God had given them – they all had faith and hope, and were looking forward to these promises being fulfilled.
Hebrews 11 again confirms God's promises to the Jews. God did not nullify His promises to them, and then make them available to the church. He is keeping His promises, He is keeping His word. And the beginning of the fulfillment of these promises takes place at the end of this age, when Christ returns, when all believers from all time, both Old Testament and New Testament saints, will be gathered to be with Christ.
But I believe the best verses in the entire Bible that bring it all together, that summarize a key aspect of God's grand and glorious plans for the saints, are found in Hebrews 11:39-40. "All these (referring to the Old Testament believers), having gained approval through their faith, did not receive what was promised, because God had provided something better for us (New Testament believers), so that apart from us (New Testament believers) they (Old Testament believers) would not be made perfect." I love these verses, for they help us see how everything comes together at the end of this church age with respect to both Old and New Testament saints. Old Testament believers had hope for the future, hope for their land and for a new heaven, but they wouldn't see the realization of their hope apart from the New Testament saints. That's how God planned it. And when Christ returns, Hebrews 11:39-40 will come true, for then all believers from all time will be gathered together to be with Christ. "He will send forth His angels with a great trumpet and they will gather together His elect from the four winds, from one end of the sky to the other." (Matthew 24:31). How wonderful, how amazing. Thanks be to God!
4. REVELATION 11  ~ GOD'S PROMISE TO THE JEWS ABOUT THEIR KING WILL COME TRUE

The fulfillment of a key promise is given to us in Revelation 11:15. There we read, "The kingdom of the world has become the kingdom of our Lord and His Christ; and He will reign forever and ever." The promise given to David about a future king (1 Samuel 7:13-16), repeated many times over in the Old Testament, finally comes true. "The Lord will be King over all the earth." Zechariah 14:9.
At the very end of Daniel's 70th week, the seventh trumpet is sounded, and then Jesus Christ becomes King over the world, and He will reign forever and ever. It is at that time that all the Jews alive on this earth will be saved (Romans 11:25-26, Isaiah 45:17). And Christ the King will be there with them, loving them, rejoicing over them, and then reigning over the world. "God is the King of all the earth… God reigns over the nations" (Psalm 47:7-8). The promise given to David over 3,000 years ago finally comes true at this point in time, and because we live in the end times, then we know that it won't be long before this takes place.
IN CONCLUSION ~ THE OLD TESTAMENT PROMISES TO THE JEWS ARE TRUE, NOW AND FOREVER



I hope this helps you to see that many New Testament verses affirm and prove the truth of God's Old Testament promises to the Jews. I pray that you have a greater understanding of these promises, and a conviction that they will all be carried out. God's word is true. God's word is eternal. God's word will be fulfilled. By the Lord God, and through His promises to His people, great blessing will come to the entire world. More importantly, great glory will be given to God the Father, and to the Lord Jesus Christ. "Blessed be the Lord God, the God of Israel, who alone works wonders. And blessed be His glorious name forever; and may the whole earth be filled with His glory. Amen, and Amen." Psalm 72:18-19